WELCOME TO THE SWEDISH PROTEOMICS SOCIETY
The SWEDISH PROTEMICS SOCIETY (SPS) was founded in December 2001; a remarkable year that marked a historical turning point in genomic research.

The approximate 20,000 genes from a given mammalian cell forms the basis of the corresponding proteome. A single gene can produce several functional proteins that are the result of a number of differential mRNA splicing events and post-translational modifications. Such biological diversity ensures that proteomics is centrally positioned in research and general public interest, and will continue to be so in the future.

The exact number of proteins in the human proteome has been estimated at 300,000 to a few million. Undoubtedly, our scientific efforts within the proteomic research society will continue to provide additional information and contribute to answering this fundamental question.

The birth of the Swedish Proteomics Society is a natural consequence of the strong interest in protein expression profiling linked to outstanding research in the areas of biomedicine, biotechnology, and biology. Here, genomics, protein chemistry and molecular biology have been successfully combined to further proteomic and medical research within the country.

The aims of the society are to endorse activities within the proteomic field in Sweden, to interface with international proteomic programs and to develop and further promote state-of-the-art proteomic technology.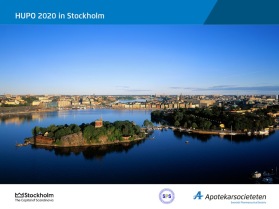 The Swedish Proteomics Society (SPS) and the Swedish Pharmaceutical Society cordially invite proteomic researchers from around the globe to the 19th Human Proteome Organisation World Congress.

From 18 - 22 October 2020, this all-encompassing symposium on the latest proteomic research and technology witll be hosted in the capital of Scandinavia, Stockholm, Sweden.

Read the whole post »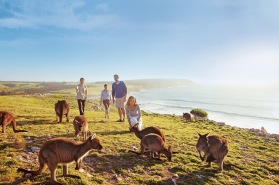 The 18th Human Proteome Organisation World Congress will be held in sunny Adelaide, Australia from the 15 – 19 September 2019.

The Australasian Proteomic Society (APS) warmly extends their invitation to all proteomic researchers from around the world to join them in beautiful South Australia.

For further information and details on registration, please visit: https://www.hupo2019.org/

Read the whole post »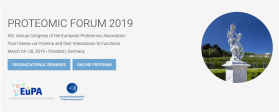 Join the XIII Annual Congress of the European Proteomics Association: From Genes via Proteins and their Interactions to Functions from 24 - 28 March 2019 in Potsdam, Germany

Further information can be found at: https://www.eupa2019.org/

Read the whole post »
EuPA is the federation that encompasses the European national proteomic societies. It was established to coordinate and integrate national initiatives within the field of proteomics. Through education and training, the main objective is to strengthen and promote fundamental proteomic research and applications in Europe.
The Human Proteome Organization (HUPO) is an international scientific consortium comprised of proteomic research organizations, academic institutions and industrial partners. HUPO's mission is to define and promote proteomics through international cooperation and collaborations to better understand human disease. This is achieved by fostering the development of new technologies, techniques and training.